Yolanda's Testimonial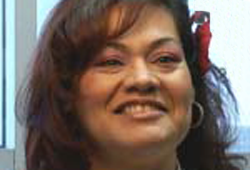 Yolanda came to Goodwill as a victim of domestic abuse and a single mother of two. She was seeking a way to provide for her family.
Yolanda decided on a career in nursing. But she didn't have the resources for the Board of Nursing license and examination. Goodwill helped her to complete job applications and find financial aid, and scheduled her to interview with employers.
Shortly thereafter, Yolanda started working at the Rancho Los Amigos Rehabilitation Center of L.A. County. The County offered her training toward getting her nursing license. Now able to support her family, Yolanda was also able to obtain her own home.
Yolanda recently contacted Goodwill to say that in July she passed her nursing exam, got her state nursing license, and officially became a registered nurse.
Yolanda says "I have so much to be grateful [for]." She describes herself as a "vessel to reach out to those that I was once like."