Andre's Testimonial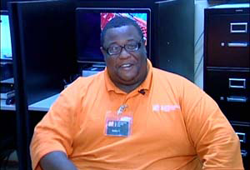 Andre's mother was just 12 years old when she gave birth to him. At five days of age, Andre was adopted by his great aunt and moved to Louisiana. He was on his own at the age of 14, and he soon fell into drugs and gangs. In the midst of this lifestyle, Andre entered college. He found himself unfocused and moved back to California to reunite with his birth mother. He met his wife on the streets, and they soon started a family of their own. After becoming a father, Andre realized he needed to change his life around. He left drugs and gangs behind.
Andre found a job at Home Depot and was happy there. When a job at another company became available, he took it but found that it wasn't what he expected. Then Andre moved his family to San Bernardino. But he couldn't find employment. He struggled to find a job and keep a place for his wife and children. By now the family included six kids, including Andre's nephew. Their church helped with housing and food.
While driving one day, Andre noticed Goodwill's Job Services Center. Every day Andre, his wife, and sometimes his children came to the center as he sought work.
With Goodwill's help, Andre secured a job again at Home Depot. He has moved up in the company and looks forward to gaining more skills to make Home Depot his career. Andre is taking business classes and hopes one day to have his own business. He also enjoys writing and producing music, particularly Gospel and rap.
Andre was named Goodwill's 2010 Inland Empire Achiever of the Year. When he received this award in June, he told the audience: "Embrace your struggles and challenges. They make you who you are today."